So I've been invited to run in a half marathon in June. Mind you, I'm NOT a runner. I don't like running and I'm not good at it. I cuss while I run. A lot. It feels very difficult and painful and never over when I'd like it to be. So of course, it makes perfect sense that I agreed to run a race with Heidi (another non-runner). The good news is, it's not until June. The bad news is, I think I'm hurting myself each time I run and will ultimately render myself arthritic before this is all over.
Part of my training process is to find all the unlikely people who have succeeded in running:
Oprah Winfrey
Pamela Anderson
This 100-year old man, Fauja Singh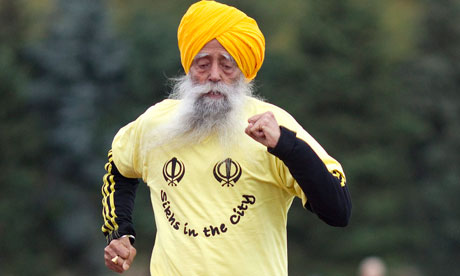 This kid
The big picture -- even I can do this. I've been giving myself the same pep talk when it comes to writing. I've been sniffing around the long form of writing for a couple years now, and have experience doing non-fiction, but I think I'd like to try my hand at writing fiction.
I've been reading this book,
Why We Write
by Meredith Maran, in an attempt to understand other writers' processes. It's remarkable how many successful writers fail for so many years, yet manage to rise above it. I have read plenty of terrible books in my lifetime, and I'm certain that even I can write a terrible book. My big problem is I want to write a GOOD book. Not sure how to do that, but I think it's about time I get my act together and try.